So someone sends you an enquiry in reaction to your latest post.
You reply – they book a shoot almost immediately.
What is your first reaction?
"Now THAT's my ideal client!"
But are they really? Or are they just "easy"?
WHEN PEOPLE BUY
One of the biggest traps when defining your "ideal customer" is to confuse them with the ones that are ready to buy now and then to put all your marketing efforts into reaching as many of them as possible.
Imagine you were running a restaurant.
As you are about to open, a couple is waiting to enter. They are hungry and have heard about your restaurant and have looked at your menu online. They come in, sit down, order within 5 minutes.
Then another couple: they are hungry and are looking for a nice restaurant, but they haven't heard about you and are on the opposite side of town. Chances are, they will be eating somewhere else tonight.
Now imagine a couple who have just had dinner, or who is on a diet right now. They surely will be hungry or eating out at some point, but not now. Not today.
So, saying that your ideal customer is the one who books NOW equals saying that your ideal client is ONLY the couple that's hungry RIGHT NOW, knows they want to eat at your restaurant, and knows what they want immediately.
Although your business certainly needs this kind of clients, and benefits from them, why would you target only them? They are, in fact, already your client.
THE THEORY
At any given time, your audience is divided into 3 big groups:
The "Now Buyers"
The "Future Buyers"
The "Never Buyers"
The Now Buyers, or active buyers, are people who have a need and are actively shopping for vendors. These are effectively "sales leads", they might have already heard about you, are more receptive to your offers…. and only account for 3% of the marketplace.
The Future Buyers audience is made of two subgroups: first, those people who intend to change their supplier. They might have had a shoot with another photographer and didn't like their style, or are simply looking for something different. These people account for 7% of the marketplace. They have a need for your product, but aren't proactively searching for options. This means they can easily be turned into a client or a sale if they engage with a well timed marketing campaign – or engage with YOU!
And now, at the core of the Future Buyers group, please welcome your biggest opportunity: a whole big 60% of the marketplace that either has a need not big enough to act on it right now, or does not have a need… yet. It might be a couple that is thinking about having a baby in the near future, or might be one that just got the news that they are pregnant. Their priority right now is to enjoy the moment and excitement, not to book a photoshoot.
This group will not buy from you today, and for this reason is not targeted by your competitors as heavily as the Now Buyers: here is where you plant the seeds for your future success: engage with this 60% of the market the right way and be assured that when the moment comes for them to buy… they will come to you.
This is why I always suggest to create strategies aimed at reaching both the Now Buyers, to increase bookings quickly, and the Future Buyers, to secure your long term profitability.
In other words: at any point in time you roughly have a top 10% of your audience who has a need for your services, however only 3% of this group is actively searching for a provider.
Then you have another 60% of your audience who doesn't have a need for your services today, but will in the next few months.
The remaining 30% of the marketplace (the Never Buyers) is never going to choose you. They may be loyal to the competition, or may just never have the need for your services.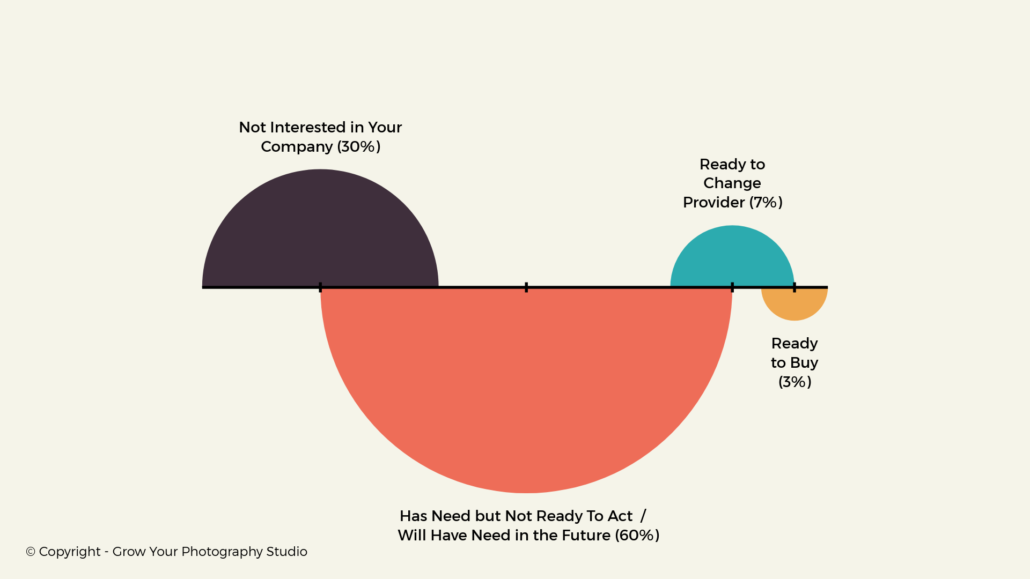 WHERE THINGS START GOING WRONG
Here are two common mistakes that we must avoid at all costs:
1- Focus exclusively on the 3% of people ready to buy now
Why is this a mistake? At the end of the day, 3% might still be a lot of people.
It is, but… firstly, you have to share this 3% with all your competitors.
Whenever you see a "Get Offer", "Book Now", "Offer valid for the next 24 hours", "Limited Time Offer", "Limited Availability" call to action, that speaks to this audience. Which means, this audience is more likely to engage with another offer before you get to them, or to ignore offers in general as too heavily targeted.
To make matters worse, with photography being a "luxury" purchase, your competitors are not only other photographers. A holiday, a SPA break, a home theatre, these are all purchases that could potentially compete with a Newborn Session and related products.
2- The second trap to avoid is to use the same message for everybody in our audience, no matter if they are or aren't ready to buy, and expect the same reaction from everybody
This is why traditional websites only work for a few photographers… and adverts in general work for even fewer of them.
The "This is my offer, click here to book now" message will never work with a future buyer… simply because at this moment in time they are not interested in what you have to offer.
Engaging with Future Buyers is only possible if you create content that brings some value to their life and it is not attached to an offer, so that you can establish a relationship and create trust before they are ready to buy.
If you invest into creating content that makes people know you and trust you before they have a need, they will skip right over your competitor and call you first when that need arises.
This is the best place for your business to be in. This is where you build a future of growth and profitability.
WRAPPING UP
If you reached 100 people today, chances are that less than 3 are very likely to book (competition, remember?) and, if the offer is compelling enough, 7 might switch to your services in the near future. Of the remaining 90, 60 people are the ones you should be investing on to build your future success and win the competition.
If you want to know more book a free coaching session for your studio using the form below.
---
https://growyourstudio.photography/wp-content/uploads/2019/07/audience-chart.png
1080
1920
giuliabigi
https://growyourstudio.photography/wp-content/uploads/2019/07/GB-Logo-Final-1.png
giuliabigi
2019-06-22 15:53:21
2020-03-21 17:37:05
WHY YOUR "IDEAL CLIENT" IS THE ONE WHO DIDN'T BOOK TODAY