Long gone are the days when you could pop up on Google overnight, maybe stuffing your HTML with meaningless lists of keywords (yes, I am that old!).
Our blog post series "SEO tips for Newborn Photographers" will help you navigate the most recent changes in search engine's algorithm and get your Newborn Sessions page seen!
E-A-T FOR NEWBORN PHOTOGRAPHERS
Since the major Google algorithm update in August 2018 (called "the medic update"), the acronym "E-A-T" has become a superstar in the SEO universe.
Why? Well…
To rank well on Google, you need to nurture your brand by building its Expertise, Authority, and Trustworthiness (exactly what E-A-T stands for)!
The core idea is that Google relies on a whole range of "trust signals" to evaluate the authority of a website's content and its creator.
Unfortunately, we cannot control directly all of the trust elements considered by Google. We must therefore ensure that our studio's website sends out as many "trust signals" as possible.
So, let's dive right in!
TRUST PAGES 101: ABOUT PAGE
Google reviews not only your website's E-A-T score… but yours, also!
When creating your About page try to use the following structure:
A one sentence introduction that immediately connects you with the reader on a more personal level (remember… it's never about YOU!). In simple terms: write something that makes you unique, and that people WILL remember.
Add a few more details to create Trust and Authority (for example, are you a registered nurse? What other qualifications do you have?). But remember: this is not a resume! Avoid writing a list of awards you have won or associations you are part of. Instead, mention a few and explain to the reader why they should care about it.
End the About page with links to your Social Media profiles… and don't forget Linkedin.
CONTACT PAGE
I am always surprised when I browse someone's website and I struggle to find their full contact details!
Local businesses in particular (and you are one of them), should include their full address, a contact number and other contact details.
Are you using a contact form? Don't forget to also include your email address!
Possibly, at least your email and phone number should also be included on your header and footer.
If your website uses WordPress it is a good idea to use a WordPress SEO plugin like Rank Math to create structured data that can then be used by serch engines.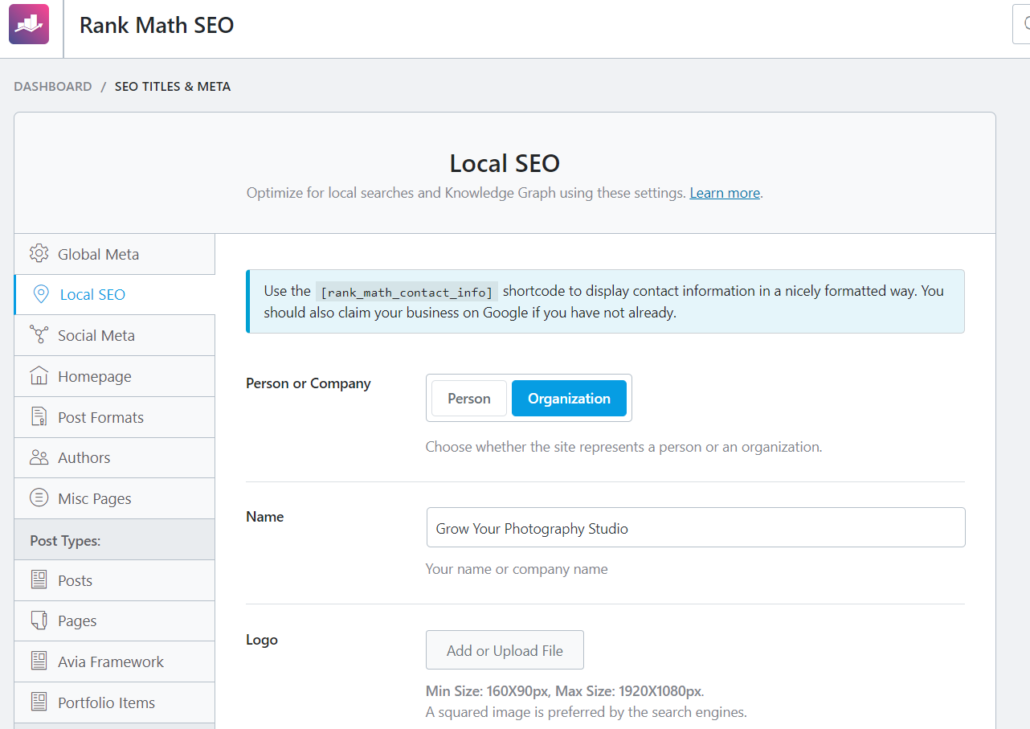 POLICIES FOR YOUR STUDIO
We all know about GDPR and the need of a GDPR/Cookie banner… but do you really have all of the policies in place?
These "boring" pages are not only important for your SEO, they are also required for your website to be compliant with Facebook Ads and Google Ads policies. Not having them in place can even result in your advertising account being banned!
At the very least, you should have in place:
A Cookie Policy that explains what Cookies are, which ones you are using and how a visitor can opt-out
A Privacy Policy that includes your contact details
Website Terms
Companies like Harmony & Blue offer professional templates you can personalise and use.
If you are on the Grow Your Photography Studio programme instead… get in touch! We have templates we can share with you right away.
ADDENDUM: USE PUBLIC WHOIS
WHOIS (pronounced as "who is") is a query protocol used to check information about the ownership of a domain name.
As a real business, make this information public for your studio's website. No serious business has private WHOIS information but before you do this make sure the address is your business address and not your home address.
How do you know if your WHOIS is private or public?
The easiest way is to check using a WHOIS Lookup service such as https://whois.domaintools.com/ (free).
Wrapping up: SEO tips for Newborn Photographers (E-A-T)
There are many elements that Google takes into consideration when it comes to E-A-T, so every Newborn Photographer should ensure to work on the ones listed on this blog post as a start.
And as you keep working on your SEO remember: aim at creating quality content that resonates with your readers and creates trust!
Interested in getting more bookings and… clients who value what you do?
Start from the button below and book your free business and marketing coaching call.
https://growyourstudio.photography/wp-content/uploads/2020/09/AdobeStock_76007177-scaled.jpeg
1700
2560
giuliabigi
https://growyourstudio.photography/wp-content/uploads/2019/07/GB-Logo-Final-1.png
giuliabigi
2020-09-14 17:33:49
2020-09-27 17:14:52
Is Google trusting your site? SEO tips for Newborn Photographers