Imagine this: it's Monday morning and you are sipping coffee or tea sitting in your studio… and waiting for your Facebook Photography business page to load.
So you wait, and wait, until you realise you can't actually login.
And this time is not because you've been logged out and can't remember the password, it's because you have been banned.
Your Photography business page, ad account, everything is gone. In a panic, you login to your email to find a message from Facebook that explains you have violated the Community Standards and are not allowed on the platform.
For me, this is the stuff nightmares are made of – regardless of how many leads I can get from other platforms, I don't want to lose the ability for my business to be represented on a platform with almost 3 billion users.
Like it or hate it, for most of us our social media pages have become some of the most important assets in our business.
But do you really know everything there is to know about keeping your Facebook Photography business page safe?
This post gives you a few basic steps that you should implement to ensure you comply with Facebook policies and add layers of redundancy to your pages.
STEP 1 – HAVE AT LEAST TWO ADMINS ON YOUR FACEBOOK PHOTOGRAPHY BUSINESS PAGE
Yes, your personal profile and business pages are connected by default, but adding a second administrator means you will still have a way of managing your Photography business page if you can't access your personal profile.
This could happen for several reasons: you might be hacked, your profile might be suspended, etc. etc.
You can add administrators from the Page Roles section in Settings, this video shows you how.
Note: needless to say, choose someone you truly trust and that would be happy to let you use their profile to access your page!
CAN I HAVE A SECOND FACEBOOK PROFILE AND ADD IT AS AN ADMIN?
No. Having two Facebook profiles goes against the platform's policies and might result in your accounts being banned.
To learn more: https://www.facebook.com/help/975828035803295
STEP 2 – SIGN UP TO FACEBOOK BUSINESS MANAGER
Facebook Business Manager contains all of Facebook's business tools live and where you manage all of your Facebook marketing and advertising activities.
Business Manager is also essential for sharing your Facebook and Instagram assets among multiple people efficiently and securely, reducing the risk of losing access to any of those assets.
You can create a Facebook Business Manager account (which is different from Business Suite) from business.facebook.com/create 
Then:
Go to Settings – People and assets – People.
Follow this video to add an Admin https://www.loom.com/share/6f4d36896c5c44709fbf5f8e21605d8f
It is recommended to add at least two people as administrators.

Go to Business settings – Instagram accounts to connect any Instagram business accounts (you will be asked to log in to Instagram).

Go to Ad accounts – Add New ad account.
You will have the access to add an account you own by supplying the ad account ID, or request access to use another Business Manager-owned ad account. 
To find your Ad Account id:
Go to Ads Manager 
Your ad account ID number is shown above the search and filter bar, in the account dropdown menu.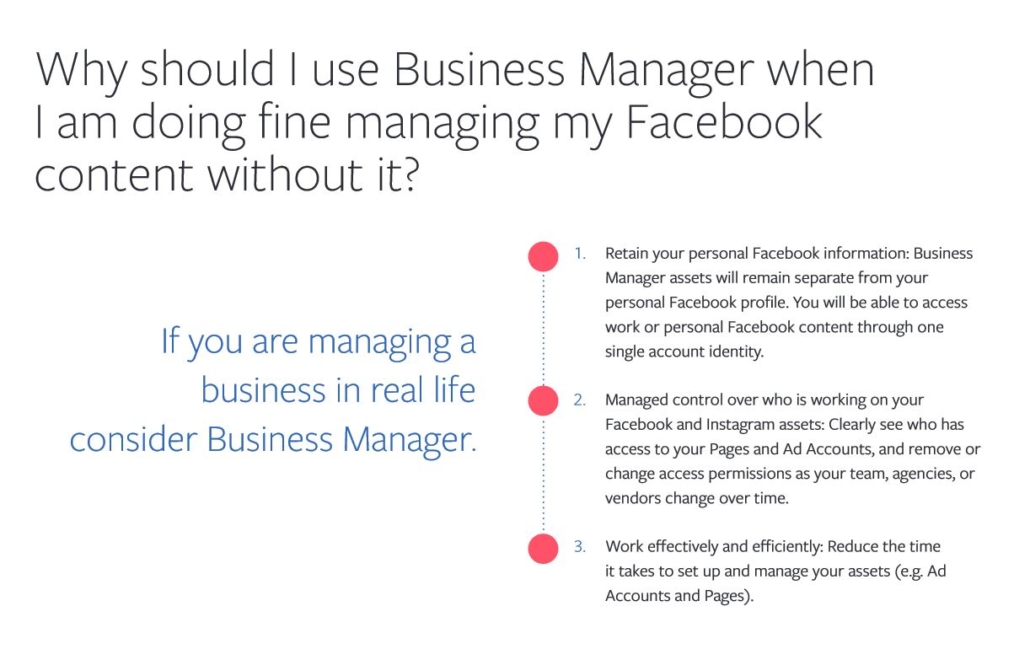 A FINAL NOTE
Now I know you might be thinking "Ok this is boring and complicated, I don't need any of this and Facebook sucks anyway!".
I hear you. Our lives are already busy enough and "too much time" is definitely not one of our problems.
But here's the thing, remember when you had to deal with that annoying client who was demanding to see your RAW files and you thought to yourself "my business my rules, I am not giving my unedited files to anyone?".
Google, Facebook, Instagram… They also are businesses and they also enforce a "my business, my rules" policy.
So sure, you can ignore all of this and any of these platform's policies… but you do so at your own peril!
Facebook Community Standards can be found here: https://www.facebook.com/communitystandards/
Facebook Advertising Policies https://www.facebook.com/policies/ads/
NEED HELP?
Want to know more about using Facebook Business Manager for your Newborn Photography Studio?
Request a free Marketing Coaching Call now
https://growyourstudio.photography/wp-content/uploads/2021/05/facebook-photography-business-page.jpg
744
1980
giuliabigi
https://growyourstudio.photography/wp-content/uploads/2019/07/GB-Logo-Final-1.png
giuliabigi
2021-05-31 15:11:55
2021-05-31 15:11:57
Want to avoid a ban? Take care of your Facebook Photography Business Page